MinuteTM 哺乳动物细胞/组织线粒体分离试剂盒
哺乳动物细胞/组织线粒体提取试剂盒由优化的缓冲液系统和2.0ml离心管柱组成。可以快速的从哺乳动物细胞/组织中提取线粒体蛋白。离心管柱技术使用方便简单,高产,与其他商业试剂盒相比,可以样品处理范围更广泛,可处理5-50million/样品,并且可以得到完整的线粒体。缓冲液系统不含表面活性剂和EDTA,无需匀浆和组织研磨,操作时间<30分钟。
原理:细胞/组织通过Buffer A致敏,然后细胞以Z字形路径通过离心管柱,在这个过程中细胞膜会破裂。进而通过差速离心和密度离心分离出完整的线粒体,整个过程无需匀浆和超高速离心。
提取出的线粒体可以应用于SDS-PAGE,immunoblottings,ELISA,IP,膜蛋白结构分析,2-D,酶活性检测和其他应用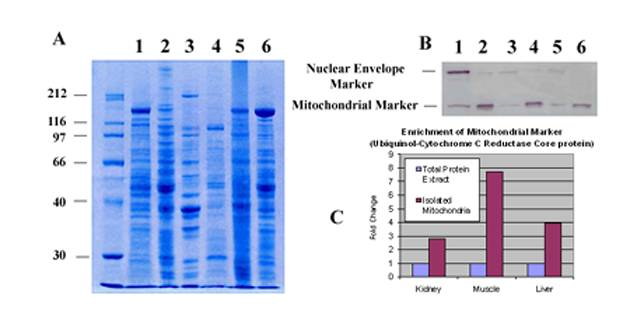 Figure 1. Enrichment of Mitochondrial Marker (Ubiquinol-Cytochrome C Reductase Core Protein) with MinuteTM Mitochondria Isolation Kit.
A. SDS-PAGE profiles of total protein extract vs. isolated mitochondrial proteins. Lanes 1, 3 5, total proteins from isolated mouse kidney cells, mouse skeletal muscle and liver tissues respectively. Lanes 2, 4, 6, isolated mitochondrial proteins from mouse kidney cells, mouse skeletal muscle and liver tissues respectively.
B. Western blotting. Proteins in A were transferred to nitrocellulose membranes and probed with anti-ubiquinol-cytochrome C reductase core protein (ab96333, abcam, Cambridge, MA) and anti-lamin B1 (ab16048,a nuclear envelope marker protein. abcam, Cambridge, MA).
C. Densitometry measurement of mitochondrial marker signals.
请点击阅读原文链接查看
| | | |
| --- | --- | --- |
| Minute TM Mitochondrial Isolation Kit for Mammalian Cells and Tissues(50 Tests) | MP-007 | 4776.00 |
| Minute TM Mitochondrial Isolation Kit for Mammalian Cells and Tissues(4 Tests) | MP-007 | 485.00 |
简单,快速,性价比高
得率高,可获得更完整的线粒体
处理样品范围更广
缓冲液系统不含表面活性剂和EDTA
1. Gou, R. et al. (2014). Resveratrol suppresses oxidized low-density lipoprotein-induced macrophage apoptosis through inhibition of intracellular reactive oxygen species generation, lox-1 and the p38 MAPK pathway. Cellular Physiology and Biochemistry. 34:603-616.
2. Hu, H., Zhu, W., Qin, J., Chen, M., Gong, L., Li, L., ... & Ye, D. (2016).. Acetylation of PGK1 Promotes Liver Cancer Cell Proliferation and Tumorigenesis. Hepatology. DOI: 10.1002/hep.28887
3. Ge Gao , Zhipeng Wang , Lingling Lu , Chunli Duan , Xiaomin Wang , Hui Yang(2017).Morphological analysis of mitochondria for evaluating the toxicity of α-synuclein in transgenic mice and isolated preparations by atomic force microscopy. Biomedicine & Pharmacotherapy . DOI: 10.1016/j.biopha.2017.11.057
4. Zhang,Liwen , Liu,Jian , Zhou,Fangfang , Wang,Weiming , Chen,Nan(2018). PGC-1α ameliorates kidney fibrosis in mice with diabetic kidney disease through an antioxidative mechanism.MOLECULAR MEDICINE REPORTS 17: 4490-4498, 2018 .DOI: 10.3892/mmr.2018.8433
5. Yao Wu, Wei-Nan Gao, Ya-Nan Xue, Li-Chao, Zhang, Juan-Juan Zhang, Sheng-Yao Lu, Xiao-Yu Yan, Hui-Mei Yu, Jing Su, Lian-Kun Sun(2018).SIRT3 aggravates metformin-induced energy stress and apoptosis in ovarian cancer cells.Experimental Cell Research , 2018 doi.org/10.1016/j.yexcr.2018.03.030
6. Luyan ,Shen Boyang ,Sun Jiyao, Sheng Sihang Yu ,Yanqing Li ,Huadan Xu, Jing Su ,Liankun Sun,(2018).PGC1α promotes cisplatin resistance in human ovarian carcinoma cells through upregulation of mitochondrial biogenesis. International Journal of Oncology.doi.org/10.3892/ijo.2018.4401
7. Han, W., Cao, F., Gao, X. J., Wang, H. B., Chen, F., Cai, S. J., ... & Ding, H. Z. ZIC1 acts a tumor suppressor in breast cancer by targeting survivin. International Journal of Oncology.
8. Jie Ouyang etal (2018).SIRT3 inactivation promotes acute kidney injury through elevated acetylation of SOD2 and p53. journal of surgical research.doi.org/10.1016/j.jss.2018.07.019.
9. Kai Zhou1 et al (2018).VDAC2 interacts with PFKP to regulate glucose metabolism and phenotypic reprogramming of glioma stem cells. Cell Death and Disease .DOI 10.1038/s41419-018-1015-x.
10. Xue YN etal (2018).Zinc and p53 disrupt mitochondrial binding of HK2 by phosphorylating VDAC1.Experimental Cell Research.DOI: 10.1016/j.yexcr.2018.12.002.
11. XY Chen et al(2019).Isoliquiritigenin Induces Mitochondrial Dysfunction and Apoptosis by Inhibiting mitoNEET in a Reactive Oxygen Species-Dependent Manner in A375 Human Melanoma Cells.Oxidative Medicine and Cellular Longevity.doi.org/10.1155/2019/9817576.
12. Ma, J., Chen, L., He, X. X., Wang, Y. J., Yu, H. L., He, Z. X., ... & Zhu, X. J. (2019). Functional prediction and characterization of Dip2 gene in mice. Cell biology international.doi.org/10.1002/cbin.11106.
13. Cai, M., He, P., & Fang, D. L. Hypoxia‑induced mitochondrial translocation of DNM1L increases mitochondrial fission and triggers mPTP opening in HCC cells via activation of HK2. Oncology Reports.doi.org/10.3892/or.2019.7213
14. Guo, Z., Song, T., Xue, Z., Liu, P., Zhang, M., Zhang, X., & Zhang, Z. (2019). Using CETSA assay and a mathematical model to reveal dual Bcl-2/Mcl-1 inhibition and on-target mechanism for ABT-199 and S1. European Journal of Pharmaceutical Sciences, 105105.
15. Yue, J., Shen, Y., Liang, L., Cong, L., Guan, X., Li, Z., ... & Xu, W. In situ and ex situ surface‐enhanced Raman spectroscopy (SERS) analysis of cell mitochondria. Journal of Raman Spectroscopy.
16. Duan, C., Kuang, L., Xiang, X., Zhang, J., Zhu, Y., Wu, Y., ... & Li, T. (2020). Activated Drp1-mediated mitochondrial ROS influence the gut microbiome and intestinal barrier after hemorrhagic shock. Aging (Albany NY), 12(2), 1397.
17. Duan, C., Kuang, L., Xiang, X., Zhang, J., Zhu, Y., Wu, Y., ... & Li, T. (2020). Drp1 regulates mitochondrial dysfunction and dysregulated metabolism in ischemic injury via Clec16a-, BAX-, and GSH-pathways. Cell Death & Disease, 11(4), 1-19.